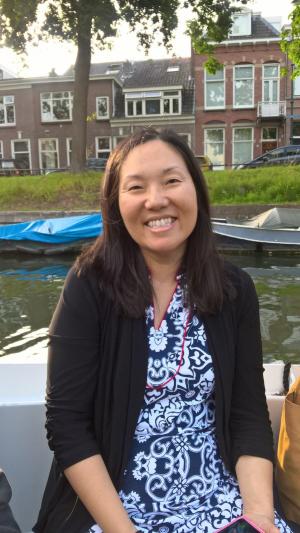 Associate Professor of English and Women's and Gender Studies
332 Tate
Education
PhD, English, UCLA, 2005
MA, English, UCLA, 2002
MA, Asian American Studies, UCLA, 2001
AB, English and American Language and Literature, summa cum laude, Harvard, 1996
Research and Teaching
she/her/hers
Professor Lynn Mie Itagaki has research interests in interracial ethics, comparative race studies, women of color feminism and twentieth- and twenty-first-century U.S. literature by writers of color. She recently published a book that examines the post–civil rights era in terms of the 1992 Los Angeles crisis, Civil Racism: The 1992 Los Angeles Rebellion and the Crisis of Racial Burnout, and has published articles and reviews in African American Review, Amerasia Journal, Feminist Formations, MELUS and Prose Studies. Her next book projects examine the aesthetics and politics of the media bystander in the post-9/11 era and race and economics in literature after the Great Recession. She was recently a 2018-2019 Visiting Fellow in the Programme of American Studies at Northumbria University in Newcastle-upon-Tyne, England, and a 2019 Visiting Professor for the International Research Training Group-Diversity at the Saarland University in Saarbrücken, Germany.
Professor Itagaki has recently published on "racial laundering" in 2013 Shelby County v. Holder that dismantled the 1965 Voting Rights Act and has forthcoming essays on "financial naturalism" in post-Great Recession literature, "racial pyramidization" and Karen Tei Yamashita's Tropic of Orange for a forthcoming volume in the MLA series Approaches to Teaching, critiques of multiculturalism in Volume III of the Cambridge University Press series Asian American Literature in Transition, 1965-1996, and on racial protest and Asian American cultural production for The Oxford Encyclopedia of Asian American Literature and Culture. She and her co-author Jennifer Maria Gülly (College of William and Mary) have two forthcoming articles on German pro-migrant literature and performance art in Modern Fiction Studies and Cultural Dynamics as well as two articles in Periscope: Social Text Online and philoSOPHIA: A Journal of Continental Feminism. Professor Itagaki is also the series editor for Since 1970: Studies in Contemporary America at the University of Georgia Press.
Listen to Professor Itagaki talk about civility, inequality and America's civil religion on NPR.
Watch her recorded talk, "Civility in Uncivil Times: Framing the Racial Pyramid and Comparative Racialization" at The Bridge, MU School of Education (5 October 2021).
Areas of Expertise
Twentieth- and twenty-first century American literature
Asian American literature
Feminist theory
Women of color feminism
African American literature
Comparative racialization
Critical ethnic studies
Selected Publications
"The Long Con of Civility," special issue "How We Argue Now: The Moral Foundations of Politics and Law," Connecticut Law Review, Vol. 52, No. 3 (February 2021): 1169-86.
"Compromising Trust," Special Issue on Jack Balkin's The Cycles of Constitutional Time. Missouri Law Review  86.2 (2021): 541–552.
"Multiculturalism and Its Discontents," Volume III: Asian American Literature in Transition, 1965–1996. Eds. Asha Nadkarni and Cathy J. Schlund-Vials, Cambridge: Cambridge UP, 2021.
Co-author, Jennifer M. Gully. "Fleeing Bodies and Fleeting Performances: Transience and the Nation-State." Special issue, "Transient Performance," eds. Sean Metzger and Kimberly Welch. Cultural Dynamics, Vol. 33, No 1-2 (Feb-May 2021).
Co-author, Jennifer M. Gully. "The States of Memory: National Narratives of Belonging, the Refugee Novel, and Jenny Erpenbeck's Go, Went, Gone," Modern Fiction Studies 66.2 (Summer 2020): 260–80.
"Racial Laundering Equality in Shelby County v. Holder," The Shadow of Selma, eds. Henry Knight Lozano and Joe Street. Gainesville: U of Florida P, 2018. 264–288.
Co-author, Jennifer M. Gully, "The Migrant is Dead, Long Live the Citizen!: Pro-Migrant Activism at EU Borders," special issue "Mapping the Margins of Europe: Race, Migration and Belonging," eds. Agnes Czajka and Jennifer Suchland, philoSOPHIA: Journal of Continental Feminism 7.2 (Summer 2017): 281–304.
Civil Racism: The 1992 Los Angeles Rebellion and the Crisis of Racial Burnout. Minneapolis: University of Minnesota Press, 2016.
-Reviewed in CHOICE, American Literary History, Critical Ethnic Studies, Journal of Asian American Studies, Lateral: Journal of the Cultural Studies Association, and Social History.
"Proximal Subjects: Framing the Bystander and the Visuality of Vulnerability," special issue "Revaluing the Human: The Moral Economy of Human Rights." Prose Studies 38.1 (2016): 93-115.
"Science Fiction and Speculative Worlds." A History of California Literature. Ed. Blake Allmendinger. Cambridge: Cambridge UP, 2015. 371-384.
"The Autobiographical IOU: Elizabeth Warren's Debtor-Citizen and the Reliably Liable Life Narrative." Biography 37.1 (Winter 2014): 93-123.
"United States, Inc.: Citizens United and the Shareholder Citizen." Kalfou: A Journal of Comparative and Relational Ethnic Studies 1.2 (Fall 2014): 114-137.