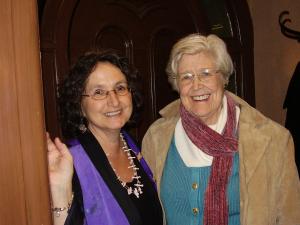 Curators' Distinguished Teaching Professor Emerita
Research and Teaching
Areas of study and teaching:  Folklore Studies, Women's and Gender Studies, Religious Studies, women's  literature and verbal art, and women's narrative; human rights, social justice, violence against women.
Elaine Lawless is the author of ten books, as well as many scholarly articles, is the co-producer (with Elizabeth Peterson) of the documentary film on Pentecostalism, "Joy Unspeakable," and "Taking Pinhook," with Todd Lawrence, 2014.  Her latest three books are: The Liberation of Winifred Bryan Horner: Writer, Teacher, and Women's Advocate (Indiana Univ Pr, 2018); When They Blew the Levee: Race, Politics, and Community in Pinhook, Missouri (Miss Univ Pr, 2018); Reciprocal Ethnography and the Power of Women's Narratives (Indiana Univ Pr, 2019).
During her time in the English Department, Lawless received the Faculty Alumni Award, the Kemper Award for Excellence in Teaching, a Gold Chalk Award (for graduate instruction) and a Purple Chalk Award (for undergraduate instruction), and the Chancellor's Award for Research. In 2002, she was named a Curators' Professor by the MU Board of Curators; in 2004, she was named MU Alumni Distinguished Professor.  In 2003, she founded and is the producer of the Troubling Violence Performance Project, with Professor Heather Carver (director), MU Theatre Department.  From 2005-2008, Dr. Lawless served as the Director of the Center for Arts and Humanities, Conley House, on the MU campus.  She served as President of the American Folklore Society (2007-2010).  Lawless served as the Nan Keohane Distinguished Visiting Professor at the University of North Carolina and Duke University for 2011-12, where she taught in residence. Currently, she teaches for the Honors College.
Awards and Honors
Missouri Governor's Award for Excellence in Teaching
Nan Keohane Visiting Distinguished Professor, UNC and Duke, 2011
(Elected) President, American Folklore Society, 2006-10
American Folklore Society Kenneth Goldstein Award for Academic Excellence, 2010
Curators' Professor, 2004
MU Distinguished Professor, 2007
Alumni Association Faculty/Alumni Award
Gold Chalk Award
Honor Tap
Purple Chalk Award
William T. Kemper Fellowship for Excellence in Teaching
Selected Publications
Elaine Lawless and M. Heather Carver. Troubling Violence: An Auto/Ethnographic Performance Project. Univ. of Miss. Press, 2009.
Elaine Lawless. "Ecstacy Across a Thin Line: Pentecostalism in the Deep South," New Territories, New Perspectives: The Religious Impact of the Louisiana Purchase, ed. by Richard Callahan. Univ. of Missouri Press, 2008
Elaine J. Lawless. "In Search of Our Mothers. . .and Our Selves" [non-fiction]; in The Folklore Muse: Nonfiction Writing by Folklorists in the Field, ed. by Frank deCaro. Logan: Utah State Univ. Press, 2008.
Elaine Lawless. Moving Targets: When violence hits home Folklore Summer, 2006.
Elaine J. Lawless. "A Call for Action: Improving Community Awareness of and Responses to Local Violence Against Women" Peace Studies Quarterly Fall, 2006.
Elaine Lawless. The 'Cycles of Violence' Narrative Prototype as a Folk Story: Recognizing Folklore Where it Works for Justice New York Folklore Quarterly 8 (Spring 2004). [Appeared in 2005]
Elaine Lawless. Performing Witchery: Cartography and Power in Ethnographic Fiction Louisiana Folklore Quarterly (Spring 2004): 20-31 [Appeared in 2005]
Elaine Lawless. Woman as Abject: Resisting Cultural and Religious Myths that Condone Violence against Women Western Folklore 9.4 (2004): 12-22
Elaine Lawless. Women Escaping Violence: Empowerment Through Narrative (University of Missouri Press, 2001) www.umsystem.edu