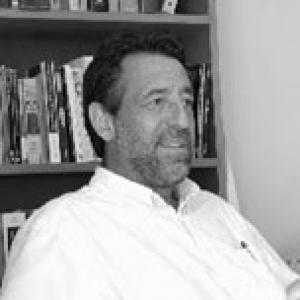 Professor Emeritus
Education
PhD 1990, University of Utah
MFA, 1981, Bowling Green State University
MA, 1979, Hollins College
BA, 1977, Western Washington University
Research and Teaching
Modern and contemporary American literature; poetics; creative writing, poetry and creative nonfiction
Scott Cairns teaches modern and contemporary American literature and creative writing. His poems have appeared in Poetry, The Atlantic Monthly, The Paris Review, The New Republic, Image, Spiritus, Tiferet, etc., and have been anthologized in Upholding Mystery (Oxford UP '96), Best Spiritual Writing (Harper Collins 1998 and 2000), and Best American Spiritual Writing (Houghton Mifflin, 2004, 2005, and 2006). His poetry collections include Slow Pilgrims: The Collected Poems (Paraclete Press, 2015), Idiot Psalms (Paraclete Press, 2014), Compass of Affection: Poems New and Selected (Paraclete Press, 2006), Philokalia (Zoo Press 2002), Recovered Body (Braziller 1998), Figures for the Ghost (U Georgia P 1994), The Translation of Babel (U of Georgia P 1990), and The Theology of Doubt (Cleveland State UP 1985). With W. Scott Olsen, he co-edited The Sacred Place (U of Utah P 1996), an anthology of poetry, fiction, and nonfiction. His spiritual memoir, Short Trip to the Edge, (HarperSanFrancisco) and a collection of adaptations and translations, Love's Immensity: Mystics on the Endless Life (Paraclete Press), both appeared in 2007. The memoir is being released in paper from Paraclete Press in 2016, and in both a Greek and a Romanian translation (2015 and 2016, repsectively).  His Love's Immensity appeared in paper as Endless Life: Poems of the Mystics (Paraclete Press, 2014). He is founding director of Writing Workshops in Greece http://www.writingworkshopsingreece.com/, and also serves on the faculty of the low-residency MFA program in creative writing at Seattle Pacific University. He received a Guggenheim Fellowship in 2006, and the Denise Levertov Award in 2014.  
Awards and Honors
John Simon Guggenheim Fellowship
Denise Levertov Award
Pushcart Prize
National Endowment for the Humanities Fellowship
Selected Publications
Libretto: Return, with composer Georgi Andreev, premier performances scheduled for April/May, 2022.
Book: Anaphora: New Poems, Brewster: Paraclete Press, July, 2019.
Chapbook: School of Embodied Poetics. Brewster: Paraclete Press, 2020.
Book Chapters:
"Imagination, Knowing, and Supposing," God and Wonder: Theology, Imagination, and the Arts. Ed. Jeffrey W. Barbeau and Emily Hunter McGowin. Eugene, OR: Cascade Books, 2022. pp. 44-56.
"Be Thou My Vision," Stars Shall Bend Their Voices: Poets'Favorite Hymns & Spiritual Songs, Jeffrey L. Johnson, ed., Orison Books, 2018, pp. 21-23.         
Anthology appearances:
"Stikhera for the Last Kiss" and "Canticle of the Sun (Saint Francis)," The Kingdom Poets Book of Christian Poetry from Around the World in English Translation, Beginnings to 1800, edited by Burl Horniachek, Wipf and Stock Publishers, Eugene, OR, 2022.
"What to Make of This, What to Make," Imagination in a Time of Crisis, Jason Goroncy and Rod Pattenden, editors, Pickwick Publications, Eugene, OR, 2022, pp. 341-2.
"Feed My Sheep" and "As We See," CIVA Again + Again, CIVA Publications, Monona, WI, spring, 2022, pp. 44 and 48.
"Annunciation" and "Two Icons: Nativity," Remembering that It Happened Once, edited by Dennis L. Johnson, Wipf and Stock Publishers, Eugene, OR, 2022, pp. 58 and 108-09.
"Slow Pilgrim," Divining Dante, edited by Paul Munden and Nessa O'Mahony, Recent Works Press, Canberra, Australia, 2021, pp. 74-76.
"Fabric: Ekphrastic," Imagining Vesalius, University of California Press, 2020.
Essay: "Be Thou My Vision: Witness to the Revelation," Image: Faith, Art, Mystery. No. 96,                                  spring, 2018, pp. 53-55.
Periodicals, Poetry:
            "Epistle to the Ostensible Church," Image: Art, Faith, Mystery, forthcoming.
            "This Cedar Thicket My Acquittal," and "No Stranger," Relief: A Journal of Art & Faith, forthcoming.
            "Late Murmur," Ekstasis (online), March, 2022.
            "Ain't No Meta. Ain't No Nevamind," The Christian Century, January 19, 2022, p. 8.
            "Approaching That Lacuna," Ergon: Greek/American Arts and Letters (online) January, 2020.
            "Odd Instructions," Aethlon: The Journal of Sports Literature, Vol. XXXIV, No. 1, p. 108.
            "Adiáphora," Image: Art Faith Mystery, Number 96, May, 2018. p. 120.
Additional Publications:
Slow Pilgrim: The Collected Poems, Preface by Richard Howard, Introduction by Gregory Wolfe, Paraclete Press, 2015 www.paracletepress.com
Idiot Psalms (new poems) Paraclete Press, 2014 www.paracletepress.com
Endless Life (translations & adaptations) Paraclete Press, 2014 www.paracletepress.com
The End of Suffering (essay) Paraclete Press, 2009 www.paracletepress.com
Short Trip to the Edge (spiritual memoir) HarperOne, 2007 www.harpercollins.com, Greek edition:Μικρό Ταξίδι στη Μεθόριο, Parrisia Press, Athens, 2014. English paperback edition, Paraclete Press, 2016 www.paracletepress.com
Love's Immensity: Mystics on the Endless Life (translations/adaptations), Paraclete Press, 2007www.paracletepress.com
Compass of Affection: Poems New & Selected, Paraclete, Press, 2006 www.paracletepress.com
Philokalia, Zoo Press, 2002
Recovered Body, New York: George Braziller Publishers, 1998. Reprint Eighth Day Press, 2003eighthdaybooks.com
Figures for the Ghost, University of Georgia Press, 1994
The Translation of Babel, University of Georgia Press, 1990
The Theology of Doubt, Cleveland State University Poetry Center, 1985