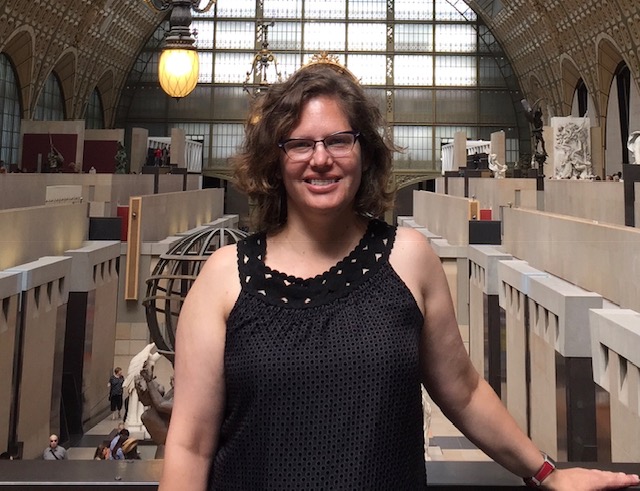 Associate Professor; Director of Graduate Studies
210 Tate Hall
Education
B.A. Pomona College (1994)
Ph.D., University of California, Los Angeles (2005)
Research and Teaching
Sixteenth- and seventeenth-century, British literature, history, religion, and architecture
Anne Myers specializes in the literature of Renaissance England, with a particular emphasis on the seventeenth century. Her book, Literature and Architecture in Early Modern England (Johns Hopkins University Press, 2013) explores literary and historical treatments of England's built environment in a variety of sixteenth- and seventeenth-century texts by a range of authors, including William Camden, Ben Jonson, Andrew Marvell, George Herbert, Anne Clifford, and John Evelyn. Other research interests include post-Reformation ecclesiology and local history, along with the rise of antiquarianism and amateur history in the post-Reformation period.
Anne's current book project considers the idea of the "monument" in early modern England, where the word could refer to both built, physical monuments and historical manuscripts or printed texts. While many studies have explored the historical functions of funereal and architectural monuments in the period, few scholars have thought in a sustained way about what it would mean for written texts to be read as monumental artifacts. The book includes chapters on such writers as John Foxe, Ralph Josselin, Randle Holme, John Leyland, and Anne Clifford. Her project is supported by the College of Arts and Science Mid-Career Writing Group and the Provost's Mid-Career Research Fellows Program.
Anne's teaching interests include Shakespeare, Milton, Renaissance Drama, and seventeenth-century poetry and religious literature. She thinks about John Milton at least once a day, even during the summer.
Selected Publications
Monograph
Literature and Architecture in Early Modern England (Johns Hopkins UP, 2013).
Articles
"Navel-Gazing and the Performance of Gratitude: Accounting for Character in Ralph Josselin's Diary," JEMCS 21 (2021): 114- 141.
"The Architecture of Shakespearean Comedy: Domesticity, Performance and the Empty Room." In The Oxford Handbook of Shakespearean Comedy. Ed. Heather Hirschfeld. Oxford UP, 2018, pp. 342-357.
"The Church: Looking beyond the Altar: Thomas Browne's Repertorium and Early Modern Ecclesiology." In A Handbook of English Renaissance Literary Studies. Ed. John Lee. John Wiley & Sons, 2017, pp. 206-219.
"Wilton House and Seventeenth-Century Country House Writing." In The Intellectual Culture of the British Country House, 1500-1700. Eds. Matthew Dimmock, Andrew Hadfield and Margaret Healy. Manchester UP, 2015, pp. 248-262
"Restoring 'The Church-porch': George Herbert's Architectural Style" ELR 40 (2010): 427-57.
      •Winner, best article of 2010 in ELR.
"Father John Gerard's Object Lessons: Relics and Catholic Devotional Objects in 'Autobiography of A Hunted Priest'" Catholic Culture in Early Modern England U of Notre Dame Press, 2008, pp.216-235
"Construction Sites: The Architecture of Anne Clifford's Diaries" ELH 73 (2006): 581-600.
     • Honorable Mention, Best Article of 2006, Society for the Study of Early Modern Women.