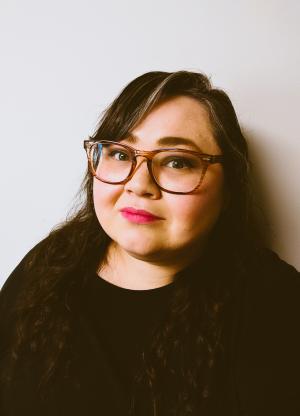 Assistant Professor
223 Tate
Education
Ph.D. in Rhetoric and Writing, Michigan State University, 2018
M.A. in English Literature, Northeastern State University, 2013
B.A in English, Northeastern State University, 2010
Research and Teaching
As a cultural rhetorics-engaged scholar, my work investigates the constellative knowledge production and rhetorical practices of meaning-making within cultural communities. This orientation to rhetoric positions me to engage in research and scholarly production through embodied, relational, and material ways of knowing. 
As a citizen of the Cherokee Nation, my research is motivated by the efforts of Indigenous communities toward decolonization, survivance, continuance, and knowledge revitalization. From this position, I draw from cross-disciplinary Indigenous theories and methodologies in order to approach my research in a tribally responsible and accountable way that aligns with the ethics and values of Indigenous peoples.
Situated at the intersections of rhetoric and composition, Indigenous studies, food studies, and environmental humanities, I am primarily interested in how Indigenous communities make meaning through the relationships with land and through the everyday, embodied practices of material production—such as foodways--that stem from these relationships. Through my current research projects and the future work that I envision, I am ultimately interested in using Indigenous ways of knowing as rhetorical, decolonizing strategies for disrupting Western structures that uphold systemic violence. My main research questions are:
How can rhetorics of sovereignty teach us to delink from dominant Western discourses of power?

How are the connections between people and land rhetorical, storied relationships? What can we learn from the intersections of culture and environment?

What can the land and our relationships with the land teach us about writing and knowledge production?
My research in the areas of cultural rhetorics and Indigenous studies deeply informs my teaching practices. Centered on themes of food, land, and environment, my courses are guided by the cultural rhetorics praxis of rhetoric and composition scholars such Malea Powell and Qwo-Li Driskill that affirms rhetoric as cultural and culture as rhetorical. I strive to cultivate an inclusive classroom environment that welcomes all of our cultures and stories.  My background teaches me that stories are who we are and how we know, and by making space for our diverse stories and knowledges, I aim to teach my students that sharing our stories empowers us as private and public rhetors.  It is my hope that engaging in our classroom as a community space will help to empower them as interactive and collaborative learners. I want for the work that my students produce in my classes to be meaningful to them. Ultimately, what I would like for my students to take away from my courses is that, in whatever fields and careers they may choose, they can use storytelling and rhetorical strategy as tools with which they can come to know themselves better and which they can use as advocates for social change. 
Bio
"A story matrix connects all of us. There are rules, processes, and circles of responsibility in this world. And the story begins exactly where it is supposed to begin. We cannot skip any part."  -Joy Harjo, Crazy Brave: A Memoir
Selected Publications