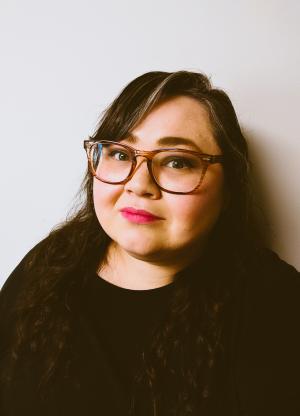 Assistant Professor
223 Tate
Education
Ph.D. in Rhetoric and Writing, Michigan State University, 2018
Research and Teaching
Professor Jaquetta Shade-Johnson's research and teaching interests are in rhetoric and composition, Indigenous studies, digital storytelling, food studies, and environmental humanities. As a cultural rhetorics-engaged scholar, her work investigates the constellative knowledge production and rhetorical practices of meaning-making within cultural communities. She is primarily interested in how Indigenous communities make meaning through the relationships with land and through the everyday, embodied practices of material production—such as foodways--that stem from these relationships. 
Through her current research projects, Professor Shade-Johnson is ultimately interested in using Indigenous ways of knowing as rhetorical, decolonizing strategies for disrupting colonial structures that uphold systemic violence. Her primary research questions are:
How can rhetorics of sovereignty teach us to delink from dominant colonial discourses of power?

How are the connections between people and land rhetorical, storied relationships?

What can we learn from the intersections of culture and environment?

What can the land and our relationships with the land teach us about writing and knowledge production?
Bio
Dr. Jaquetta Shade-Johnson (she/her) is a citizen of the Cherokee Nation and an Assistant Professor at the University of Missouri-Columbia in the Department of English and the School of Visual Studies' Digital Storytelling Program. She teaches courses in rhetoric and composition, Indigenous literature, digital storytelling, and Native American and Indigenous studies. Her research at the intersections of cultural rhetorics, Indigenous studies, and environmental humanities is primarily focused on how Indigenous communities make meaning through rhetorical, embodied, and storied relationships with the land. She currently serves as faculty advisor for the MU Indigenous student organization, Four Directions, and as a founding editor in the editorial collective for Spark: a 4C4Equality Journal, a digital, open-access, peer-reviewed journal addressing activism in writing, rhetoric, and literacy studies. 
Selected Publications
"Constellating 'The Nourishing Arts,' Decolonial Theory, Land, and Indigenous Food Sovereignty Activism through Story, Relations, and Making." Journal of Global Literacies, Technologies, and Emerging Pedagogies. Volume 5, Issue 2, November 2019, pp. 874-894.
"Alisdayhv: A Cherokee Foodways Memoir." Pixelating the Self: Digital Feminist Memoirs. Edited collection. Enculturation: Intermezzo, November 2018.